Read allows users to upload audio and video files to turn them into Meeting Reports. This is great to use if you had a meeting that you weren't able to record with Read but you do have an audio or video recording from another source. Meeting Reports generated from file uploads work a little differently than normal reports; this page will explain all you need to know.
How to Upload Files
Uploading audio and video files to Read is very easy.
Go to your Meeting Reports page
Click the "Upload" button towards the top right

A window will pop up

From here you can click "browse files" or drag and drop the files to select which ones to upload. Multiple files can be uploaded at once.
Please note the technical restrictions. Your files must be:

MP4 (for video) or M4A (for audio) filetype
5GB maximum size each

The files will start to upload automatically, but won't be complete until you select "Generate Reports"
(Optional) You can click the "Edit" button next to the file name to specify the meeting name, date, and time
Click "Generate Reports" to start processing your report(s). This can take up to 24 hours to complete depending on the size of uploads.
While your report is still generating, it will be listed under the "My meetings" tab with a gray "PROCESSING" label. After the generation is complete, you should see the report listed on this same tab.
If you don't see your report under "My meetings" then you should check the Incomplete tab. Sometimes errors occur during report generation; in this case you should not have any credits deducted and you are welcome to attempt the upload again. If you are not able to upload successfully after seeing the error, please reach out to Read Support.
Upload Credits and Pricing
You need to use upload credits in order to upload files - each minute of audio/video requires 1 credit. All of Read's paid users get monthly upload credits at no cost. Read Pro users receive 100 minutes per month, while Enterprise users receive 200 minutes, and Enterprise+ users receive 300 minutes.
You can purchase additional credits on any plan at any time by going to your Billing Page and clicking the "Buy upload credits" button.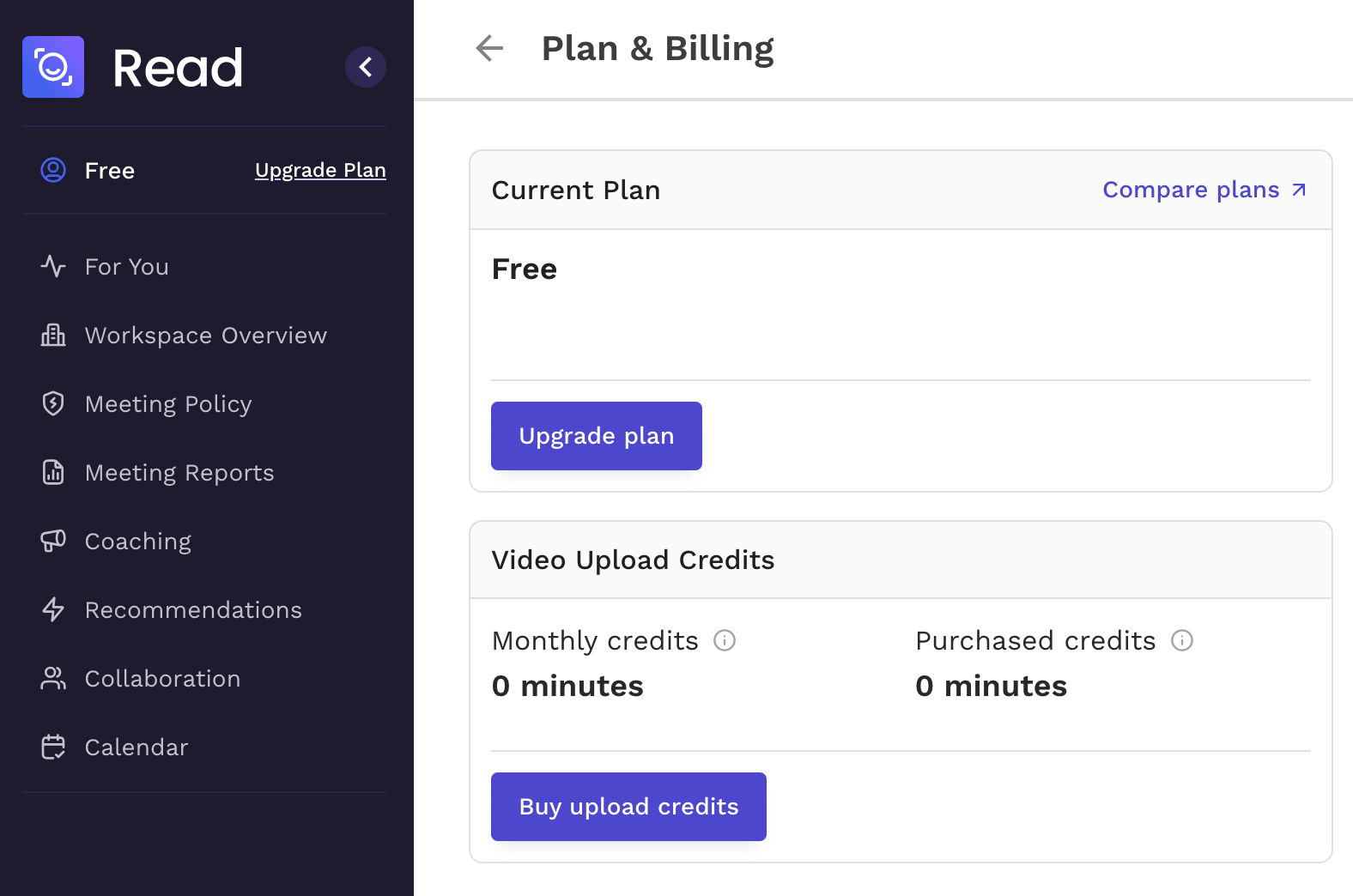 Credits can be purchased for $20 per 500 minutes. Purchased credits will remain in your account until used, but complementary monthly credits reset at the start of each month and do not carry over.
Uploaded Reports
Reports generated from a file upload work slightly differently than those generated from a live meeting recording.
You can tell a report was generated from an upload if it has this label at the top:

Uploaded reports do not have automatic speaker name detection, so names will appear initially as "Speaker 1", "Speaker 2", etc., however you can edit these names (see below)
Uploaded reports do not currently support Coaching
The Recap section does not include the Read Score/Engagement/Sentiment graph
The Deep Dive section does not include Standings, or the detailed graph of Read Score/Engagement/Sentiment
Recommendations will not be generated for uploaded reports
Editing Speaker Names
All participants' names will show up as "Speaker 1", "Speaker 2", etc. when you first generate an uploaded report. You can easily edit these names in the Transcript section of the report, by clicking on the small person icon to the left of the name:

Read will show some suggested speakers, based on your past meetings, but you can also type in whatever name you want. Changing the name once will automatically update it throughout your transcript.