You may have noticed a section in your meeting reports called "Your Notes" and wondered how to use it:

The Your Notes section is a place to keep any notes that you want to take manually for a meeting. Unlike the other sections of the meeting recap, these notes are always private and unique to you. Like other sections, you can edit this after the fact by hovering over it and clicking the "Edit" button. However, the more interesting use of this is as a place to store notes that you take while the meeting is happening.
Taking notes during a meeting
Although Read takes notes for you automatically, sometimes you may want to make sure a specific bit of information gets captured in a certain way. Fortunately, Read provides a way for you to do this during a meeting using the in-meeting dashboard (not currently supported with Webex):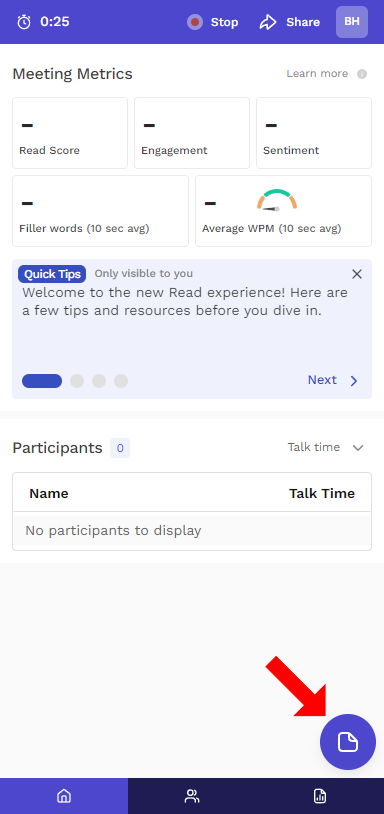 There are two ways to access this dashboard (also known as Meeting Tools and Metrics):
If you have Read's Zoom or Teams app, this screen will show automatically if you open the app during the meeting (after Read has joined the call). You may have to click on Read from the apps menu to open this if it is minimized.
You can also get this by turning on "Meeting Chat" from your Account Settings > Reporting. With this on, the chat message that Read sends at the start of the meeting will have a link at the bottom to open this dashboard up in a separate webpage. After the meeting ends, that link will redirect to the meeting report.
Once you have the dashboard open, click the page icon in the bottom right corner to open up the notetaking interface, which will look like this: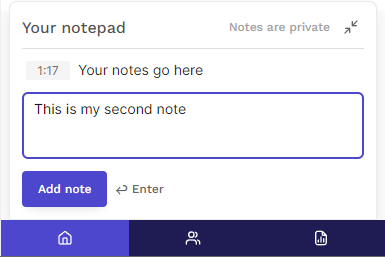 Just type your note and click "Add note" or hit enter on your keyboard. Notes get saved along with the timestamp of when you entered them.