Read is currently working on some updates to how report sharing works (both with and without Workspaces) to make this easier in the future, but today there is only one option to automatically share reports with your Team (which requires belonging to a Workspace).
The option for sharing reports amongst your Team is a setting called Team Report Access. Workspace admins can configure Team Report Access so that all reports from people in a Team are either accessible by everyone in that Team, by just the managers and admins in that Team, or by just the admins in that Team. Note that with this setting, all reports will be shared by default with these people, including 1:1s, etc, which may be undesirable.
If you are a Workspace admin, you can check how Team Report Access is currently configured for your overall Workspace by going to Manage Workspace > Permissions > Meeting Report Access. The Workspace setting will apply to all Teams by default, but if you have it set to all users, this can be disabled for specific Teams by admins/managers on that Team (depending on what you choose for "Who can edit this setting").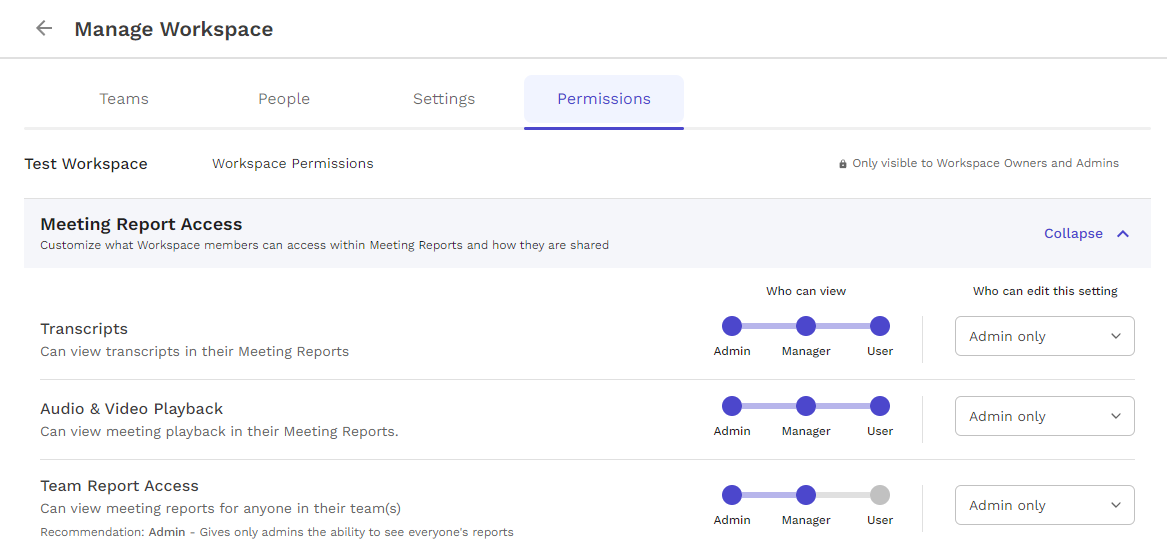 If you are a Team manager, you can check whether Team Report Access is currently enabled for everyone in your Team by going to Workspace Settings > Teams > [Your Team] > Configure Team > Shared Reporting. If this setting shows as locked, it means that either your Workspace admin has it turned off at the Workspace level (for all users, may still be on for managers/admins), or your Workspace admin hasn't given managers permission to change this setting for their teams.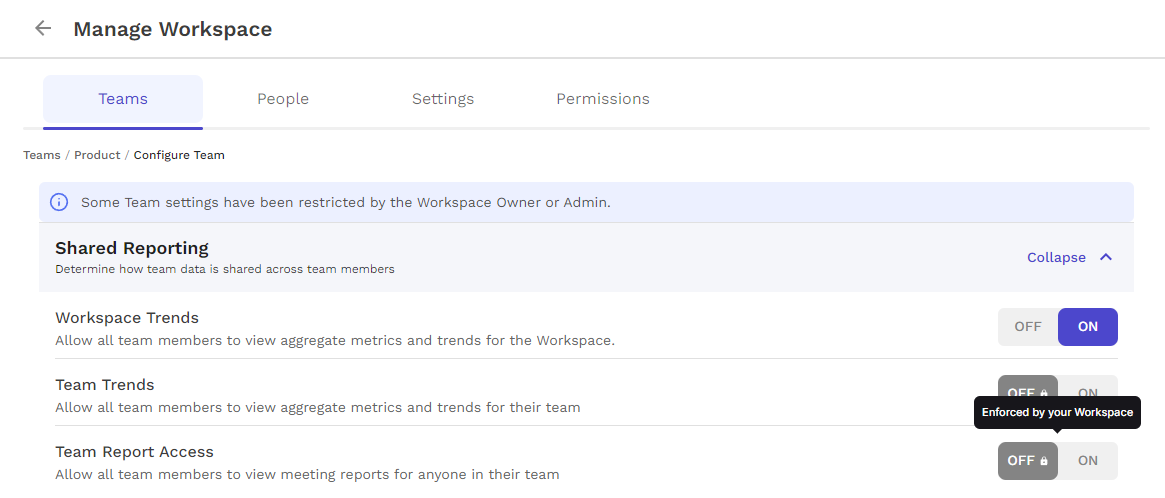 In order to view reports shared with Team Report Access, you just need to use the drop down menus at the top of your Meeting Reports page. First, select the Team, and then select the team member whose reports you want to view.




Team Report Access sets the default for how reports will be shared in your Workspace, however if you have edit permission on a report, you can always view and change who has access to it by clicking the "Share" button in the report (just note that if an admin is in your Team, they will always have access and cannot be removed unless they leave the Team). Also note that Team Report Access only applies to meetings on a go-forward basis, meaning it's not applied to meetings generated before someone joins your Workspace/Team, and changes to it won't apply retroactively to past meetings.
If you want to manually share a report with your whole Team or even your whole Workspace, you can do this by typing in your Team or Workspace name in the share dialog. See How do I share my meeting reports? for more details.
Related articles
Other articles that may be helpful: