Access a shared meeting "scoreboard" to keep everyone accountable and engaged
Let's face it - we spend a lot of time on video conferences these days and fatigue is real. It can be tempting for attendees to hide behind a screen and it's sometimes easy to get distracted when you're in a virtual meeting. By using Read Meeting Navigator during your team meetings, everyone is held accountable. If overall engagement begins to decline, it's a reminder to all attendees to refocus on the meeting.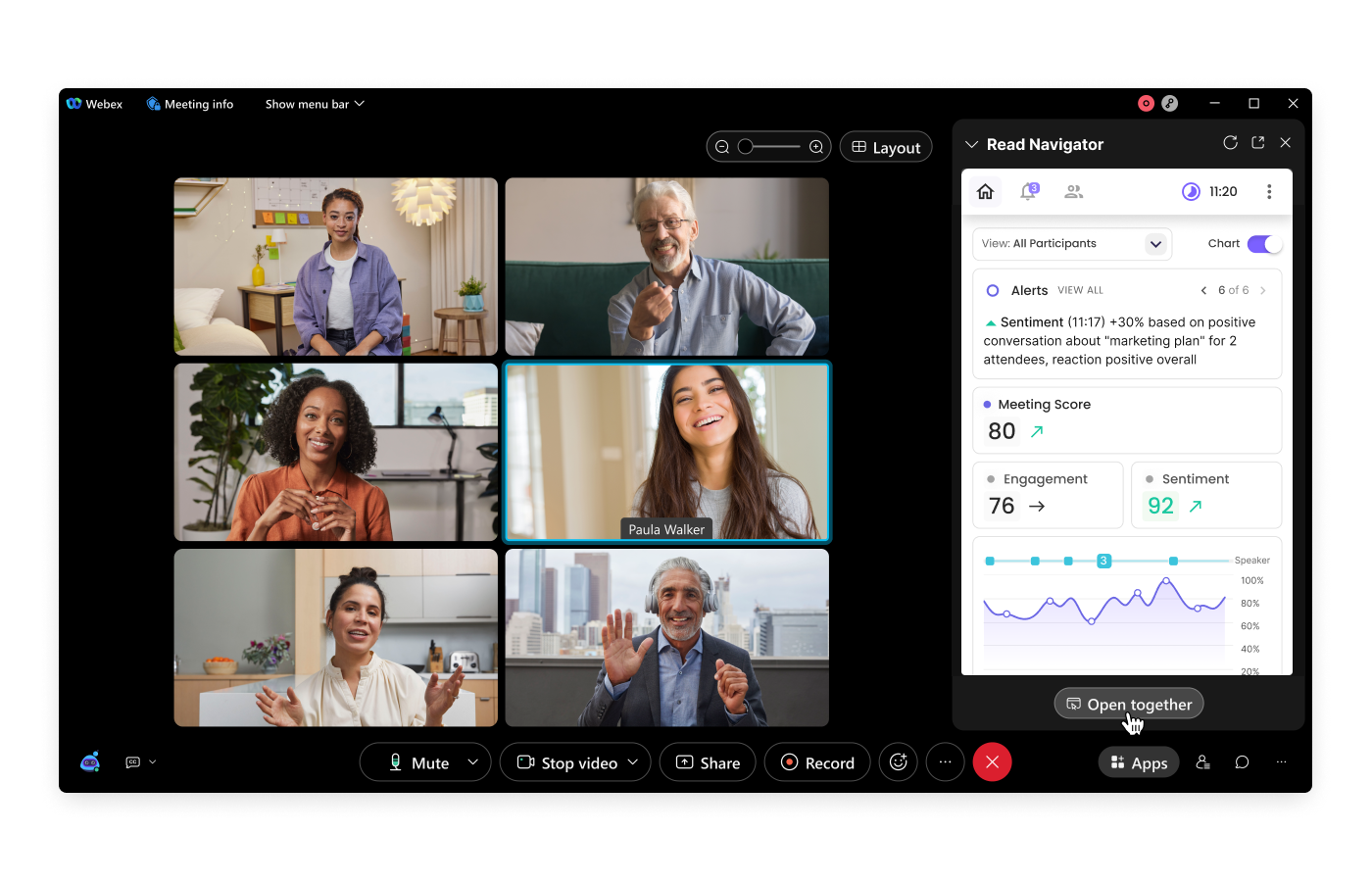 Use Read Meeting Navigator to direct better meetings
Read the room even when you can't see all attendees on the screen
In larger meetings, there often isn't enough space on the screen to see all the attendees. Do you ever wonder how people are reacting even though you can't see them? Read provides you with real-time metrics so you can understand how your meeting is going, if people are responding positively or negatively, and how engaged attendees are even if you can't see everyone yourself.
Continuously improve your own meetings
Looking to take your sales pitches, product demos or other presentations to the next level, but don't have consistent feedback on what is working (and what could be improved)? Read provides continual analysis over time so you can improve your presentations with data. Use Read's quantifiable metrics to understand if there are certain points when sentiment or engagement regularly declines, so you can revise or remove this section of the presentation. Conversely, when you see that sentiment or engagement consistently improves when discussing certain topics, you can add more of that type of content.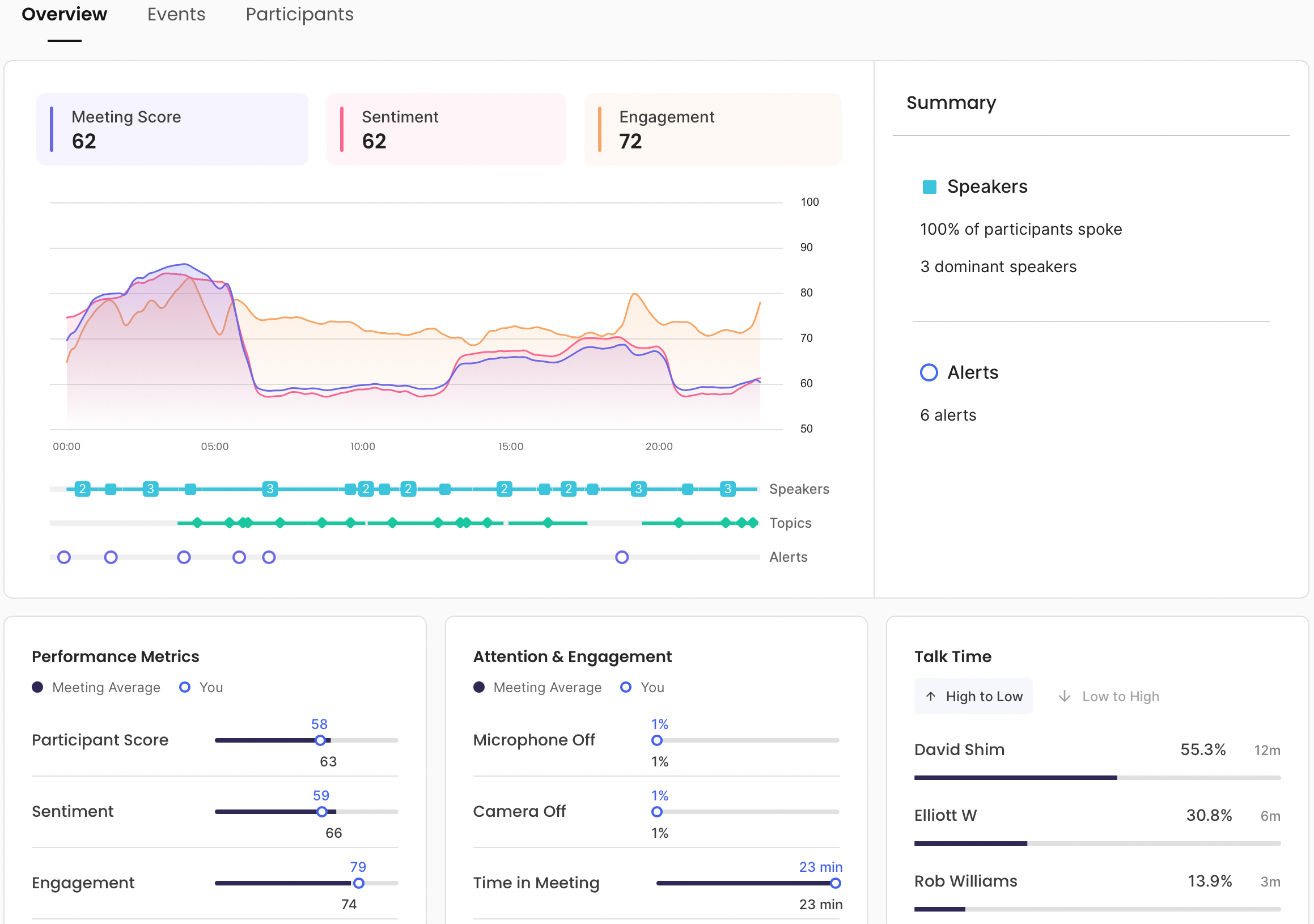 Use post-call reports to analyze your meetings over time
Ensure that everyone contributes to meetings equitably
We've all been in meetings when one person unintentionally dominates the conversation. Use the Talk Time metric to ensure that everyone has an opportunity to speak and avoid the pitfall of a meeting becoming too one-sided.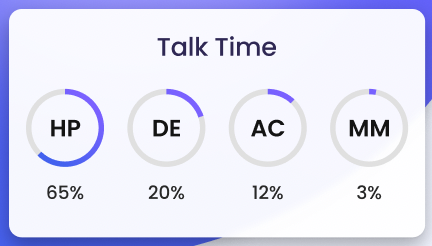 Rely on the Talk Time metric to prevent meetings from becoming too one-sided
Provide your team with coaching even when you aren't able to join every meeting
You can't be everywhere at once. With the Read Meeting Navigator, your team gets feedback about their meetings automatically. Feedback includes both real-time analytics and notifications so they can make adjustments on the fly, as well as post-meeting reports to help validate intuition on how well a meeting went.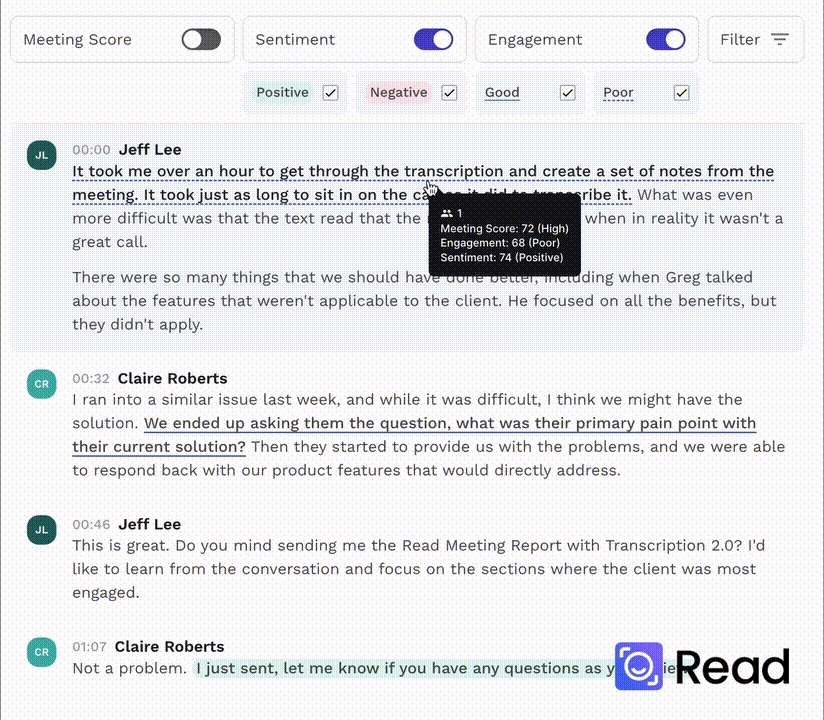 Go back and check the Transcript.
With Transcription 2.0 Easily find which statements mattered most. Transcript 2.0 saves you time by highlighting statements based on Meeting Score, Engagement, or Sentiment so you can see where your audience was engaged or where they lost interest.