You can adjust when Read joins your meetings under Account Settings > Calendar > Join Preferences: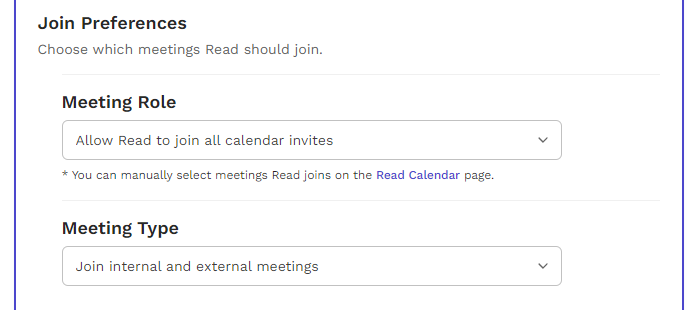 Under "Meeting Role" you can configure Read to join all of your meetings, only meetings where you are the host, or only meetings you select manually (by turning on "Invite Read?" from your Calendar page).
Additionally, under "Meeting Type" you can set Read to join internal and external meetings, or internal meetings only. Internal meetings are ones where all invited participants share the same domain name for their email address. This option is only available if your primary email address with Read is on a non-public email domain (e.g. it is a work email address and not @gmail.com or similar personal email service).
Regardless of the preference you have set in your account settings, you can always change the "Invite Read?" setting for specific meetings and recurring series from your Calendar page.
Related Articles